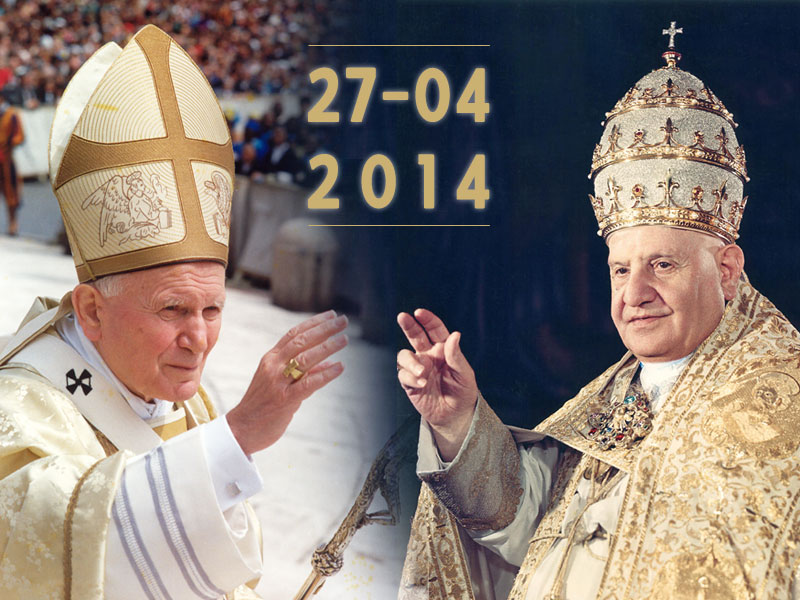 from: http://www.vatican.va/special/canonizzazione-27042014/index_en.html
Pope John Paul II was the only Pope I knew as a child, since I was born in 1978. When he passed away right before our wedding, I felt so empty! The emptiness carried over to our wedding day, as there was no sitting Pope. We spent a good part of our honeymoon in Mexico anxiously awaiting news from the Papal Conclave and the announcement that Cardinal Ratzinger had been named Pope was met with great zeal by us and by all the Catholics in the area of Mexico in which were were visiting.
Well, the day has come when Pope John Paul II will be canonized and we're very excited! To celebrate both Divine Mercy Sunday and the Canonization, we will be having a Polish feast in honor of Saint Maria Faustina Kowalska and Pope Saint John Paul II. (We also plan to have an Italian dish in honor of Pope John XXIII's canonization).
Here are some ideas for Polish dishes to make for a Polish feast. One of our sons is named after St. Maximilian Kolbe, so these recipes will come in handy for his feast day celebration, as well.
Kielbasa (Polish Sausage)
Pierogi (similar to a mashed potato ravioli)
Mizeria (cucumber salad with sour cream)
Galabki (stuffed cabbage rolls)
Kluski (Polish dumplings)
Babka (A moist, cake-like yeast bread, often served at Polish Easter celebrations)
Kolaczki (Polish cookies)
Or you could just buy a Polish cook book: